Renze Display featured in national wide-format graphics magazine!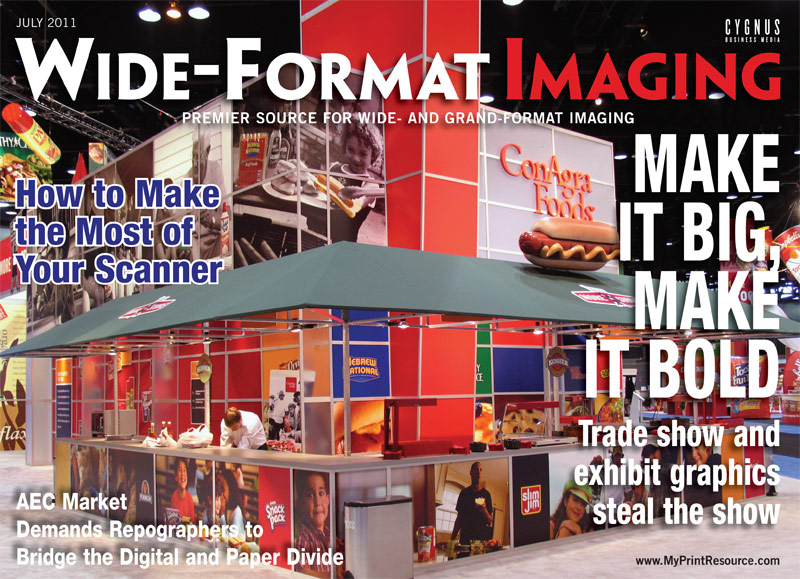 BY JEFFREY STEELE
Regardless of the industry, growing numbers of print providers are turning  out masterpieces for the trade show and exhibit markets. And that's no surprise. After all, new printer technologies, inks, substrates, and processes are putting enticing profit potential well within reach of many wide-format  imaging pros.
To ensure you grasp the trends and opportunities available in this  marketplace, as well as the means by which print providers gain and retain the business, we took the liberty of assembling a short list of companies that have navigated the sometimes-difficult waters of these markets and found gold.
In these pages, they tell you in their own words how they charted a course  for success serving the trade show and exhibit segment, and how you can, too.
Renze Display
Serving the trade show market is something Omaha-based Renze Display has been doing for a long time. Established in 1895, the company spent its first 30 years building parade floats. By the 1930s and '40s, it had branched out into all types of signage and traveling displays, which led later to producing point-of-purchase materials, screen printing, and trade show displays. Today, the company is about evenly divided between trade show markets and what it calls "branded environments," such as corporate lobbies and retail settings.
In trade shows, said executive vice-president Michael Compton, "we don't work for a particular type of industry, but we do work for advertising agencies and design firms. They provide the bulk of volume. We don't target or focus on any particular industry. Because of our geographic location [its offices are in Omaha and Kansas City], our bigger clients are in insurance, food, and agriculture."
Renze Display does very little marketing aimed at end users. That's because over the years the company has built solid relationships with agencies and design firms, and those shops have become something of de facto sales people for Renze. Compton doesn't have a single new business salesperson calling on prospects. Renze Display gets almost all new business from referrals.
Download pdf for the rest of the story.