RENZE is proud to partner with Investors Realty, Inc. on their new headquarters
Investors Realty, Inc. is a team of commercial realtors and property managers that help clients buy, sell and manage commercial real estate. They recently moved into a new space and asked us to brand their environment.
The goal of their new space is to look progressive and contemporary while still acknowledging the city where they were established — Omaha.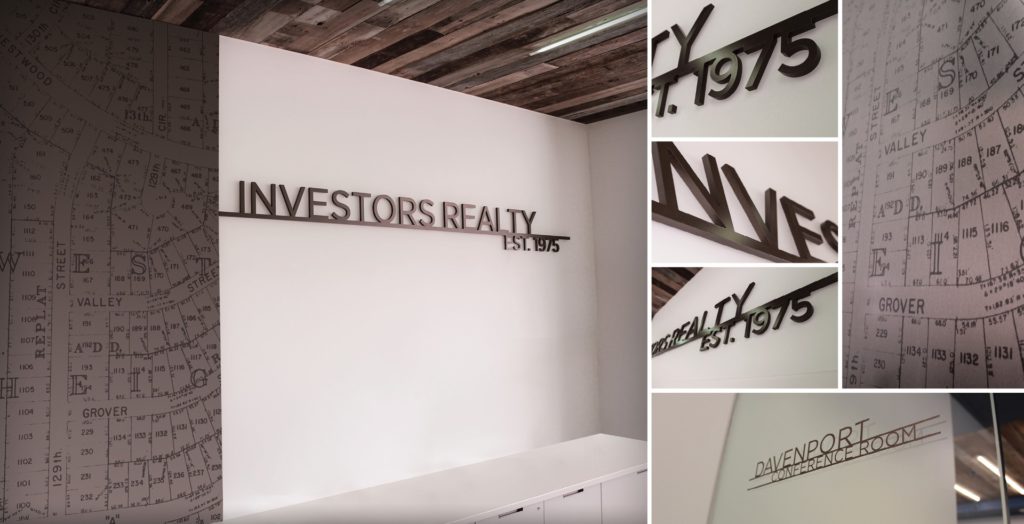 To showcase the aspect of property management, the team used imagery of their high-profile properties as well as some historic plat maps from the City of Omaha throughout the space. Those images, along with the typographic elements, were produced on a combination of dibond, acrylic, and fabric to give it more of an industrial look and feel.
"We want to thank Renze for their creative, precise and timely work on branding our new space. From the designers to the installers all were very talented and classy. We had a few ideas and your team took them and created great space. Our clients and visitors have raved about our plat maps and branded walls. Our space is so comfortable for all of us.  Thanks for jumping on board and being a great partner." — R.J. Neary, President
See additional photos of their new space here:
Investors Realty, Inc.